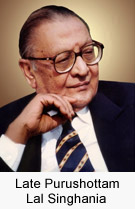 The Singhania Group was established in 1947 with the inception of Singhania & Sons Pvt. Ltd., by Late Purushottam Lal Singhania. The Group has over seven decades of experience in the business of marketing and distribution of specialty chemicals, trading in commodities like iron-ore and real estate development.
During this period we have partnered with various global companies including Fortune 500 companies.
Our network of offices are spread across India and China, with a employee strength of over 50 people.
Our Specialty Chemicals division believes in delivering global standards to customers for their chemical requirements. The division has been successful in strengthening the company's network of sourcing the products globally and marketing in India. The company today controls a major share of the Indian market and enjoys excellent relationships with its Principals, Suppliers and Customers. The management places great emphasis in maintaining long term associations and being active partners, promoting the interests of the Principals and constantly strives to source innovative, better quality and competitively priced products.
Our Commodities and Iron-Ore division was set up in 2003 for sourcing high quality metallurgical raw materials like Iron-Ore, for export to China. We have a strong logistics team spread across easternIndia. Today we enjoy the reputation of being a "Star Export House".
Our Real Estate business is driven by the tremendous demand of real estate projects in India. We have a joint venture with some reputed and experienced real estate developers. Starting with Augusta Point, Gurgaon in 2001, we have developed a few other real estate projects in Northern India.
Seek and maintain business partnerships with reputed principals & suppliers
Market and support high quality products
Achieve highest degree of customer satisfaction
Quality and customer responsiveness is the hallmark of our activites
Be market driven and innovatively fulfil the market requirment
Nurture and maintain a dedicated and result oriented team of professionls
We will be fair, honest, transparent and ethical in our conduct; everything we do must stand the test of public scrutiny.
We will integrate environmental and social principles in our businesses, ensuring that what comes from the people goes back to the people many times over.
We will invest in our people and partners, enable continuous learning, and build caring and collaborative relationships based on trust and mutual respect.
We will be bold and agile, courageously taking on challenges, using deep customer insight to develop innovative solutions.
We will be passionate about achieving the highest standards of quality, always promoting meritocracy.